INNER ARTIST: MAKING ART WORK
It's that time again! We've got another great artist to introduce you all to. 
With a whole team full of talent, it's only right that you get to meet the minds behind the art. 
So with that being said: Meet Casey Brabbs! 
Casey is one of the designers here at Inner Artist and we think she's so great that we just have to tell you all about her. 
Casey's design style is uniquely her. Characterized by 'cartoonesque' pieces, soft corners, and overall bubbly vibes. 
Here are a few of our favorites: 
Pretty awesome stuff, huh? Well there's no need to keep you waiting, let's get to know the creative individual behind these pieces! We're going to ask the hard, easy, and funny questions, so buckle up: 
How long have you been an artist?
I started practicing art when I was sophomore in college, so about five or six years ago.
How did you start? 
I think  had a pretty unconventional start, I feel like most artists start when they are younger with doodling and such. But that wasn't really me, instead I spent a lot of my time learning about music and practicing in the band. It wasn't until college when I had to do some real soul searching to try and choose my major that I realized deep down I've always wanted to be an artist. From then I just dove in head first, started practicing and learning all I could.
How can others?
So if you're looking to start or always wanted to start…just do it! It's never too late. If you're nervous, i'd recommend taking a class. Not only will they teach you step by step, but it's also a great support system that helps to keep you going if you start to doubt yourself.  
Worst purchase you've ever made?
I recently bought a fidget spinner.
If you owned a boat, what would you name it?
Definitely something punny like, Oh Ship! or Seas the Day.
 [1] (We like it) 
On average, how many times a week do you hurt yourself trying to dance in the shower?
I'm pretty clumsy, so I stick to only singing. 
(Safe choice, Casey.) 
What would you say your art 'style' is and how long did it take to get there?
I would describe my art style as cute and clean, using bright colors and bold lines to give my work a cartoon like feel. I've been developing this style since I started illustrating digitally about 3 years ago. It is still something that I'm working on refining and improving.
What is your art process like?
My art process starts with good ol' pencil and paper. For me, it is the most effective way to get a lot of ideas out in the shortest amount of time. From there I refine the sketch on paper before bringing into the computer to finalize.
Would Inner Artist's platform have made it easier for you to find your style when you started out?
Oh yeah, the Inner Artist's platform would have definitely helped me find my style much faster. I think it's ability to let you see a variety of different styles all in one place really helps you narrow down on something that speaks to you personally, as well as, play with it to make it your own.
What's your favorite show that you'll never get tired of rewatching?
The Office and Bob's Burgers.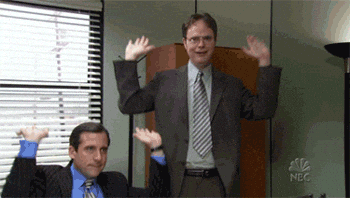 What is your favorite art piece made by someone else and why?
Oh man, there are so many! But if I have to choose one, I'd say I'm fairly fond of this piece by Tad Carpenter.
[2]
I came across it while at a design conference when I was about to graduate and was really just getting started into my illustration career. It now hangs above my desk to remind me of how far I've come and that nothing is impossible.
Since the holidays just passed, what's your favorite festive dish?
It's a drink not a dish and I only can find it in winter…but peppermint mocha coffee is my jam.
New Year's resolutions: Love or loathe?
More of a love/loathe relationship. I really love that some people stick to their resolutions and positively change their lives. I also loathe that some feel New Years is the only or best time to do so…you don't have to wait until a new year to change your life for the better.
Don't forget to follow us on socials and join the community below. If you don't consider yourself an artist, let Casey do the brain work! Inner Artist isn't just for the right brained people of the world, there's something for everyone. 
If you doubt your artistic abilities, no worries! Artists like Casey make art that you can buy in store and use for inspiration to create your own artwork pieces. Find out more and stay in the loop! 
Please reload
I'm busy working on my blog posts. Watch this space!
Please reload